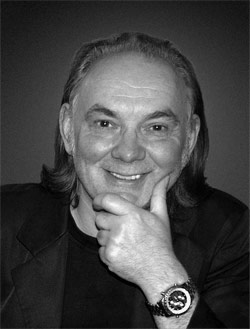 Terry Pastor is an artist and print maker who publishes his own work, but it is more than likely that he is probably best known for his iconic album artwork for David Bowie's Hunky Dory and Ziggy Stardust.
While it is these albums that usually grab the headlines, in reality this work is just one element of Terry Pastor's career. His credits include album covers for the Beach Boys, Alex Harvey, The Sweet, Carl Palmer, Soft Machine and many other artistes. Given the similarity between album covers and book covers, it is no surprise to find that Terry Pastor's credits include covers for best selling authors Arthur C Clark, Jeffrey Archer, Mickey Spillane, Colleen McCullough, Len Deighton, Brian Aldiss, Michael Crichton, Ed McBain and Leslie Thomas.
Over the years this work has won him many accolades including two prestigious Art Director of America awards and a Playboy magazine award.
His paintings feature in private collections around the world, including those of Roman Polanski and Roman Ford Coppola (the son of Francis Ford Cuppola) and he has gallery representation in Japan, Milan, and New York.
Over the past 10 years Terry has worked mainly using digital media, although some of his work also incorporates traditional airbrush technique, mainly when he enjoys collaborating with other artists and photographers. His client list includes Homme magazine, Dutch designers and art collective "The Fool", Simon Posthuma and Marijke Koger, (who painted the mural on the facade of The Beatles' Apple offices in Baker Street). Sir Paul Smith British fashion designer, plus his most recent collaboration with photographer Glen Luchford in America for the Gucci Spring campaign.
The Fool (Simon Posthuma and Marijke Koger)
Photograph by Linda McCartney
Hand coloured by Terry Pastor

Paul Smith Art Prints / K2 - with glitter

Photographer Glenn Luchford / Gucci Campaign Hand coloured by Terry Pastor
Terry's fascination with art began at a very early age. He was born in rural Surrey in 1946. His mother was English and his father Austrian. After leaving school an old family friend who recognised his artistic abilities, found him a place as an apprentice at Pulford Publicity, a design studio in Fleet Street, specialising in posters for Top Rank films. A self taught artist, it was here, that he discovered and mastered the air-brush, which was to become the main technique for most of his career. I was sacked after 3 years for having long hair and looking like a Rolling Stone clone Terry recalls. In 1968 he purchased an old dental compressor for just £5 from a second hand shop in Queensway, where he shared a mews cottage with an art student who became a life-long friend and the creative head of Jim Henson's Creature Workshop in Hollywood.
Terry spent the next few years working as an artist from a rented studio in London's Covent Garden using the airbrush powered by his trusty dentist's pump as his main technique. After taking on a top artist agent his career flourished in the 1970's where he worked on advertising campaigns for J Walter Thompson, Waceys, Foote Colne and Belding and other continental agencies in France, Germany and Holland. At the same time working for a number of major book publishers and Men's magazines like Mayfair and American Playboy.
During this time the Hunky Dory cover was commissioned in 1971, based on a black-and-white photograph. Terry produced the final artwork using the airbrush, transparent inks and applied the title lettering with Letraset (a rub-down transfer lettering that was widely used in the 70's). David Bowie was so pleased with the results that in 1972 he commissioned Terry to design and colour the Ziggy Stardust cover using the same techniques as for Hunky Dory.
| | | | | |
| --- | --- | --- | --- | --- |
| Terry Pastor 1974 | | David Bowie V&A exhibition (2013) | | Terry Pastor airbrushing 2014 |
| | | | | |
| --- | --- | --- | --- | --- |
| Terry with the Spiders from Mars, Woody Woodmansy and the late Trevor Bolder | | Ziggy Stardust plaque - 23 Heddon Street, London | | The Royal Mail Stamp |
Terry's love of cars, particularly American muscle cars. Pictured with his 72 454 Stingray in 1975

Ziggy Stardust limited edition print signed by
David Bowie and Terry Pastor